SELLING GOLD
You have cleaned out the attic, cleared out the cellar or inherited and found jewellery that you do not wear? Gold buying has now arrived in Tegernsee and is an excellent way to turn gold into cash. No matter whether you want to sell bars, jewellery, collector coins or old gold.
Anyone dealing in gold, jewellery and precious stones must have a good reputation and stand out clearly from dubious sellers. Goldankauf Ginhart already looks back on a long tradition. Walter Ginhart has been dealing in valuables, antiques, paintings etc. and precious metals for many years.
The trust he has built up over 40 years in trading and buying and selling is one of the factors that makes the company so successful. With the opening of a location in Tegernsee, Walter Ginhart starts another tradition. In addition to trading in precious stones and selling premium jewellery, buying gold is the third mainstay of the business.
Selling gold
– the motives
From countless conversations with our customers we know why people sell gold. The reasons are manifold. First and foremost is the desire to give unused valuables a new life and turn them into cash.
Whether it's a grandparent's gold watch that is no longer worn, gold cutlery that is no longer used or jewellery that has fallen out of fashion. You can turn all these items into good money at the gold purchase in Tegernsee. But also if you need money for a holiday, a vehicle repair that cannot be arranged or a larger purchase, the old gold purchase is a worthwhile option.
Selling gold
– the environment
In times of growing scarcity of raw materials, it is important to recycle existing material and use it as efficiently as possible. By selling your no longer needed gold, you give your pieces a new life and thus keep the raw material cycle going. Every gram of gold that can be recycled by buying scrap gold or gold prevents environmental pollution by digging deeper and deeper into the world's depleted deposits. In this way, you make an active contribution to environmental protection.
Unfortunately, the gold business also attracts competitors who want to take advantage of customers buying gold. That's why we always calculate according to the current gold price, which we update several times a day on the basis of the stock exchange price. This way you can be sure to always get a fair offer when you want to sell your gold.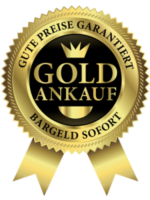 Selling gold – the why
Many people do not know what treasures are slumbering in their bedrooms, cellars, drawers or attics. Yet gold is much too good to be left unused in boxes to gather dust. Visit us in Tegernsee and let your gold be valued by us as experts. You will be surprised how much an inconspicuous brooch or coin can be worth.
It is not unusual for our customers to leave our shop not only with a considerable amount of money, but also with a big smile on their face.
Regardless of whether you use our mail order purchase service or come in person to our shop, we take a very close look at all the pieces. Simply looking at the weight is not enough for an exact valuation. After all, there are many different gold alloys, ranging from 999 pure gold to 750 gold and the popular 585 red gold. Using state-of-the-art X-ray analysis procedures, we determine the gold content to the tenth of a gram in order to provide you with a precise purchase price instead of a rough estimate.
What is the gold price based on
when I want to sell my gold?
Fineness:
First and foremost is the fineness, which is expressed in thousandths (e.g. 999/1,000). We determine this fineness with the help of embossed stamps and modern analysis technology. The fineness is the basis of every valuation, from jewellery to dental gold.
Brand:
Especially when selling jewellery, the manufacturer determines the resale value. With brand manufacturers, the real value is thus significantly higher than the pure material value. At Goldankauf Ginhart we want you to profit from this added value.
Collector's value:
Especially gold coins have a collector's value due to their limited number. This means that the real value when buying gold can even be many times the value of the gold. We know our way around numismatics and know what your pieces are actually worth. Transparency and highest customer satisfaction are higher in our company philosophy than quick money.
Appearance:
While the appearance of broken gold or gold bars is of little importance for the valuation, this is different for many pieces of jewellery or collector coins. A flawless condition increases the value significantly.
Flawless coins and pieces of jewellery bring you the greatest profit. But that does not mean that damaged pieces should end up in the trash. On the contrary: as far as the material is concerned, these are not worth less than a minted coin. Therefore, you are welcome to bring us broken gold, because selling scrap gold is also worthwhile. Whether damaged pieces of jewellery, dirty gold spoons, watches that no longer function or dental gold. Every gram earns you cash when you buy scrap gold.
Gold purchase – The purchase
There is a treasure or two slumbering in every house. Go in search of interesting pieces and turn gold into money. Come to us in Munich or use the gold purchase by mail and get a non-binding offer for your pieces today. Do you have any questions? Just give us a call or send us an email – we look forward to hearing from you.
You don't want to sell immediately? No problem… With our rentable space in the shop window, you have the opportunity to display your valuable pieces and offer them for sale to a wide audience. Of course we will help you with the valuation. Costs 30 Euro plus 19 % VAT per month for the exhibition space and 15 % of the proceeds will be charged to you. Of course you can also consign your goods for auction as usual at our Kunst & Auktionshaus Ginhart (around the corner). We will be happy to assist you with advice and support.